Studio Workspace for Rent
"There are three responses to a piece of design – yes, no, and WOW! Wow is the one to aim for."
– Milton Glaser
---
Come visit our simple but cozy studio and be inspired to pick up that brush or craft tool again. Simply but tastefully furnished, the studio is stocked with all the essentials you need for that next creative project!
CO-WORKING CREATIVE WORKSPACE
Simply need a personal work space for your art projects in a creative environment? Are you an artist/crafter and need a space to conduct your workshop? Whether you're a fledging creative start-up looking for a short-term desk space, a freelancer, a mum-preneur desperately seeking some "me-time" away from the kids, or a part-time tinkerer, we welcome you to our studio where you'll get a chance to be in the community of like-minded artists and creatives just like you. We know how it's like when you just need a work space to mess around with your creative project but your kitchen table or study room isn't quite the best option!
What's included in the Co-working Creative Workspace package?
At ARTEFAKTS, we provide a conducive art studio rental in Singapore. Our studio has a regular-size desk, free Wi- Fi, shared use of a large work table, easel, trolley, basic stationery and tools. Complimentary b/w printing (A4 up to 20 pages), colour printouts available upon request. Help yourselves to complimentary coffee/tea and light finger snacks while you work. Relax and chill at our lounge while waiting for your next awesome idea to pop. Simply drop off a token of appreciation into our 'Donation Jar' for the drinks and snacks to help us sustain this service.
What kind of activities is the studio suitable for?
We understand artists need a warm, cozy and conducive environment to achieve their best. Our studio is especially great for visual artists (sketching, drawing, painting, calligraphy, sculpture) and web/graphic designers. It's also suitable as a light workshop for craft artists (linocut relief printing, jewelry designers, leather craft, clay artists or small scale silk screen printing). For Regulars and Residents, we'll provide you with a dedicated storage box for your personal paraphernalia as well as ample shelving for your work- in-progress.
You can also rent the entire studio to conduct your private workshop! Block booking rates apply.
Enjoy the cozy privacy of your own desk space with ample shelf space
Rates & Membership Plans
$40.00 per day to $650 per month* (Please enquire for full details and rates)
Note: * Based on 8 hours per day, 10am – 6pm. Access on weekdays only. Access on weekends by request only. Includes free Wi-Fi and shared use of ARTEFAKTS' facilities and basic tools. Free flow of coffee. Materials not included.
Payment in full upon booking. No refund for unused sessions. Sessions expire if not utilised within 30 days. Spaces are limited. For enquiries on availability or to arrange a viewing, please call ARTEFAKTS at 81894281 (Jeff) or email info@artefakts.sg
---
Terms & Conditions:
• Members are required to sign the Check-in Record personally for each session
• While all reasonable effort will be made to accommodate Member's preferences, allocation of desk space shall strictly be on a first-come, first-served basis, based on availability
• Members are required to observe house rules as well as exercise due consideration and fair use to other users
• Alternative or make-up sessions may be arranged subject to prevailing vacancies and space availability
•

Workspace sessions are valid for 30 days from time of booking and shall expire if not utilized within 30 days
• The Management reserves the right to refuse entry to Members in the event of any non-compliance or serious breach of house rules, and may include recovery of costs due to misuse or damage to property and equipment
Work on your projects in our bright, airy studio with other like-minded creatives
Large work table and workbench fully-equipped with basic tools for your projects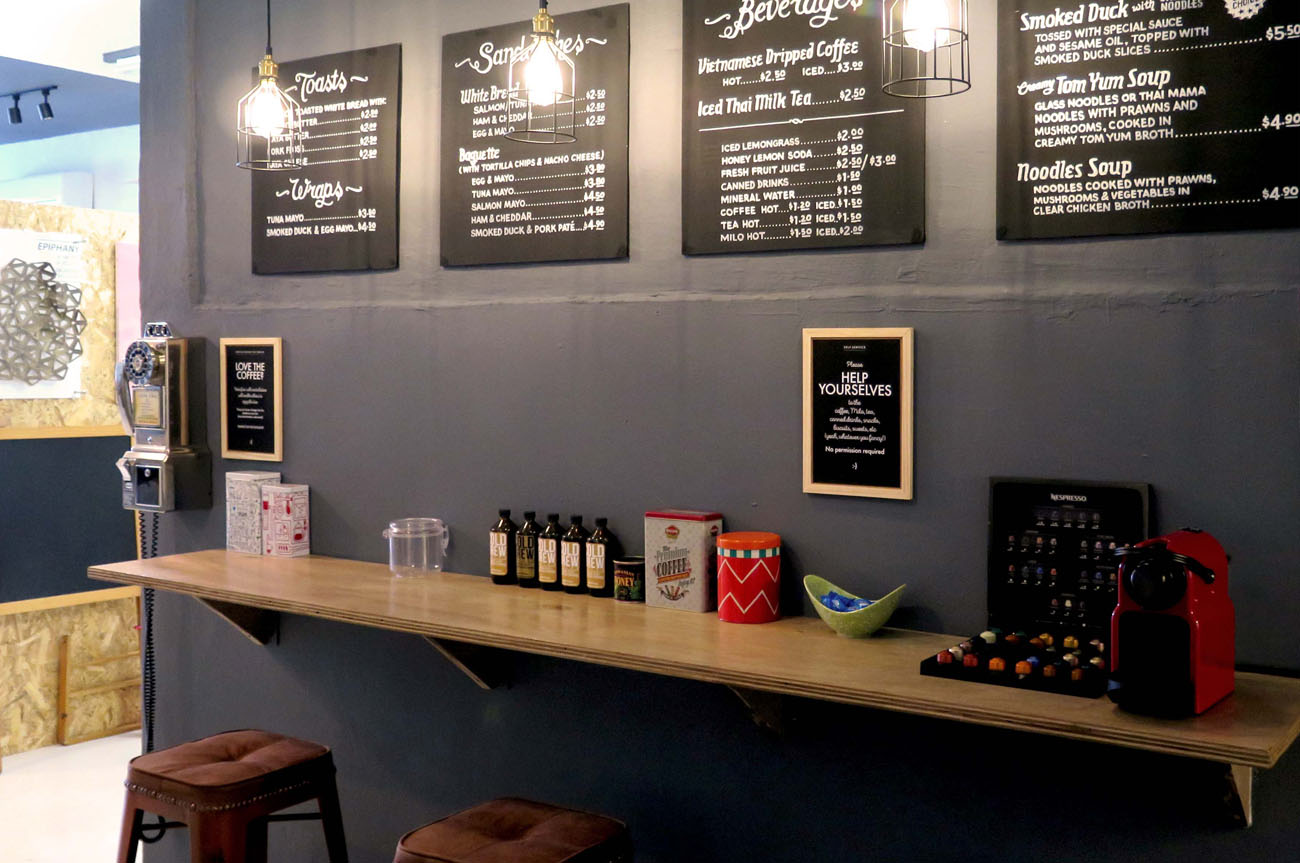 Take a break at our mock "cafe bar" —complete with hand-lettered signs that were salvaged from an old cafe 
Chill and relax while waiting for your next creative spark to ignite!