LINOCUT PRINTING
MONO OR DUO-COLOUR LINOCUT PRINTING | BASIC LEVEL
About this workshop
In both workshops, you will be introduced to the basics of linocut carving and printing techniques. You'll learn how to identify what makes an ideal image for a linocut artwork. You will begin by tracing the selected pattern or design and transferring them onto the lino surface. Then, using various linocut blades, you will carve the lino block to create a positive image. Finally, you will ink the image using a brayer (or roller) with block printing ink and print the image onto paper or fabric surface.
All materials required for this workshop will be provided and are included in the workshop fees.
---
Mono-colour Linocut Printing (2.5 hrs)
In this single-session workshop, you will design, transfer the image, and carve onto a lino block. You will go home with a carved linoleum block, which you can print over and over again, and a copy of your mono-colour linocut print.
What will I learn in this workshop?
You will mainly focus on creating an image that will be printed with only a single colour. Of course, you may choose to print the same design in various different colours but it will be considered a single-coloured design, as shown in the example of the whale below.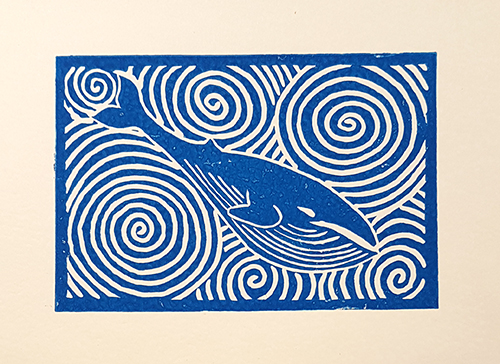 ---
Duo-colour Linocut Printing (2.5 hrs x 2 sessions)
This workshop consists of 2 sessions. Session One will be devoted to designing, transferring the image, and carving the two-part lino blocks. For Session Two, you will test print and refine your linocut image, and finally print your design in a variety of two-color combinations. The result is an Andy Warhol-inspired pop art poster that you can frame up for your home. Participants will go home with two pieces of carved linoleum blocks and a copy of their two-colour linocut print.
What will I learn in this workshop?
You will learn how to create an image which consists of separate areas that will print in different colours. In the example below, the bunny and donkey are printed in a darker, stronger colour while the background is lighter, brighter. In order to achieve this effect, this process requires you to carve two different lino artworks – one for the bunny or donkey and another for the background – and finally to print both artworks in registration. The result is a stunning two-colour effect.
Artwork credit: Erica
Artwork credit: Bettina
What happens if I miss a lesson?
We understand that as a busy working adult with multiple schedules to juggle, you may sometimes have to miss a lesson here and there due to last minute work commitments or family matters. At ARTEFAKTS, we adopt an open attendance approach and you will not be penalised or charged for missed lessons. Make-up sessions for missed lessons can be arranged at your convenience but must be utilised within 30 days from date of the missed session.
Mono-colour relief printing
2.5 hrs; One session only
Duo-colour relief printing
2.5 hrs; Two sessions
---
Note: Sharp carving tools – Children to be at least 13 yrs old with accompanying adult
Tools and materials provided
Print as you like; Unlimited number of colours
GALLERY
Click any image to enlarge...