Let's get crafty. Let's get messy! Have fun with these craft workshops for the entire family.

---
CRAFT WORKSHOPS
A perfect way to spend quality, meaningful time with your friends, family and children. Share the joy and laughter working on simple craft projects that's fun and interesting at the same time. Most craft workshops are family-friendly and suitable for older children (10 years and older).
Try your hand at our very popular Paper Marbling workshop. Or you may prefer relief print making like our Linocut Printing and Rubber Stamp Carving workshops. If you have young ones, they'll definitely enjoy Block Printing, a fun and easy art workshop in Singapore which involves the use of craft foam and other household materials to create awesome-looking stamps!
Most workshops are single session while some are spread over two 2.5-hr sessions on consecutive weekends. All materials, tools and aprons are included. So what are you waiting for? C'mon and let's get messy!
---
R E V I E W S   b y   P A R T I C I P A N T S
Very informative, fun, conducive art area
The studio had a very conducive and relaxed vibe. The materials were easy to use, Jeffrey was very approachable and willing to answer all the questions, there was enough time and materials to explore different marbling patterns. Had a lot of fun exploring paper marbling during this class.
– Ho Wei N.
Attended: Paper Marbling Workshop
..............................
Good, highly recommended
Jeffrey was really nice and patient. He guided us through and did not hesitate to help us where required. Materials provided was complete as well. The place was really nice. It gave us a really calm, soothing and therapeutic moment while doing the art. He even served us drinks!
– Ng Yu Yan I.
Attended: Paper Marbling Workshop
..............................
Jeff's lesson was personal, done in his cosy studio
He was informative and helpful. There was so much to learn from Jeff as he made us all at home and comfortable. A workshop that I will definitely share with friends or family. Thanks Jeff for being so generous and helpful in sharing knowledge that I was not sure of.
– Leck Siew H.
Attended: Paper Marbling Workshop
..............................
Super fun and cosy experience with great guidance!
I really enjoyed the Lino printing lesson, Jeffrey was a very good teacher in terms of showing me different techniques and helping me grasp the basics, before letting me go off and attempt my own design. His studio is so nice and cosy. I really like that the level of instruction and guidance can be flexible based on your experience with the medium. Most of all, I had lots of fun!
– Olivia W.
Attended: Linocut Carve & Print (Adults & Teens)
..............................
Enjoy the warm and relaxing vibe at ARTEFAKTS where class sizes are kept small to maintain a cozy, friendly atmosphere
Take a break, read a book and have a cuppa on us while you recharge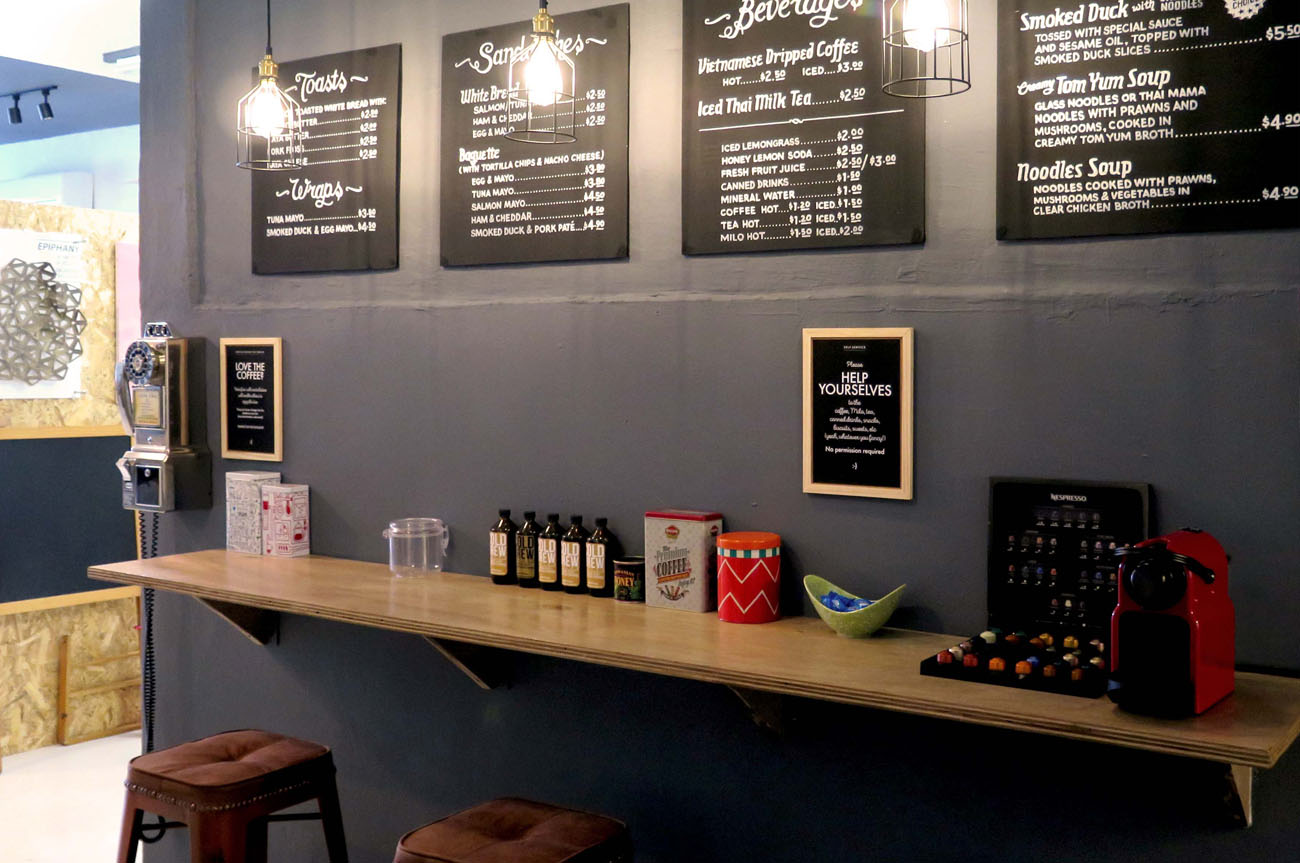 Help yourselves to complimentary light refreshments (beverages, snacks and non-alcoholic drinks only) at our mock cafe bar
---
As a contemporary art studio, our emphasis is on creating works which are fresh, modern and avant-garde yet rooted in established art and design principles.