ARTIST COLLECTION
Each cover features an original hand-marbled design. In contrast to the thicker Premium Collection, the Artist's Collection is slimmer and characterized by vibrant and expressive patterns reflecting a youthful outlook. Hip and trendy yet embracing tradition.
Expect experimental designs with louder, bolder colors, infused with a sense of energy and adventure.
Affordably priced and perfect for journaling, sketching & note-keeping. An ideal gift for young and spirited individuals, as well as the mature but young at heart!
ARTIST COLLECTION
S K E T C H B O O K   J O U R N A L
SGD$12.00 + $4.00 Postage (Local delivery only)
Material: 135 gsm cartridge paper
Paper colour: White
Size: Approx 21*14.8cm
Inner pages: 64 pages
Weight: 164g
Binding: Saddle-stitched (stapled)
* Each book features an original, one-off hand-marbled pattern. Only ONE piece of each design will be available.
* Due to naturally occurring irregularities in the hand-marbling process, some variation in colour and texture may be expected.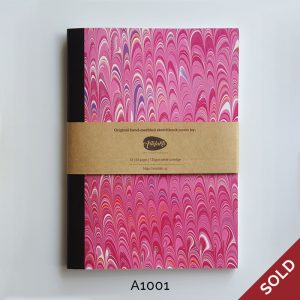 A1001
SOLD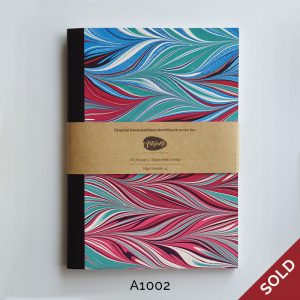 A1002
SOLD
A1003
SOLD
A1004
SOLD
A1006
SOLD
A1007
SOLD
A1008
SOLD
A1009
SOLD
A1010
SOLD
A1011
SOLD
A1012
SOLD
A1014
SOLD
A1016
SOLD
A1018
SOLD
A1019
SOLD
A1020
SOLD
A1021
SOLD
A1022
SOLD
A1024
SOLD
A1025
SOLD
A1026
SOLD