LINOCUT PRINTMAKING WORKSHOP
Linocut printing is a traditional method of making limited edition prints from a carved linoleum block. Believed to have originated around 1912 from Russian Constructivist artists, most prints then were made purely in black and white. However, around early 1920s, linocut prints with colour began to surface in the UK. Picasso and Matisse are among some of the notable artists known to have produced linocut prints.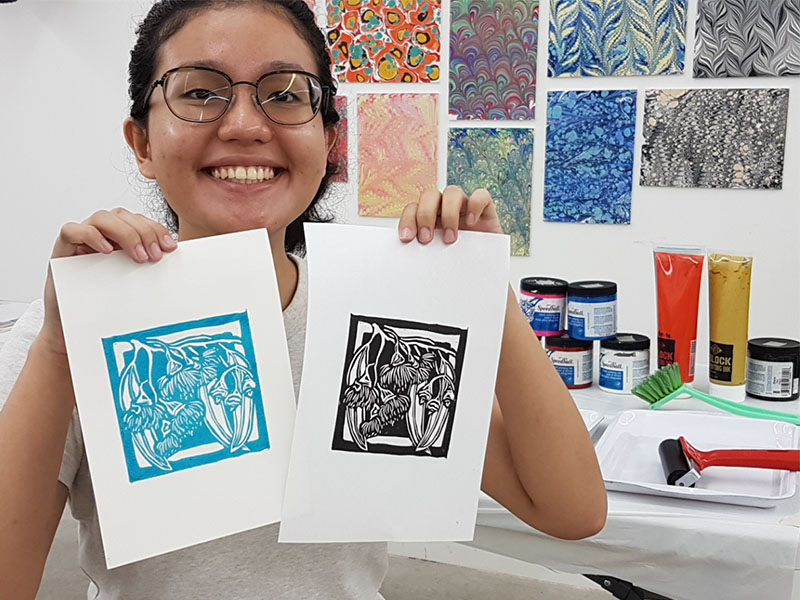 Mono-colour Linocut Workshop
In this single-session workshop, you will design, transfer the image, and carve onto a lino block. You can print the single colour image in a colour of your choice. You will go home with a carved linoleum block, which you can reuse to print multiple times, and a few copies of your mono-colour linocut print.
BOOK NOW
Duo-colour Linocut Workshop
This workshop consists of two separate 2.5 hr sessions conducted over two weekends. Session One will be devoted to designing, transferring the image, and carving the two-part lino blocks. For Session Two, you will test print and refine your linocut image, and finally print your design in a variety of two-color combinations.
BOOK NOW
LINOCUT PRINTMAKING WORKSHOP
Experience and appreciate the unique handmade feel of a linocut print. Book your slot today! Cautionary note: Due to the use of sharp carving tools, please understand that participants should be 13 years or older. Children 12 years and below should be supervised by a responsible adult.
BOOK NOW